VTK-RELAY is an all-in-one relay module, featuring connections for four electromechanical relay channels to other auxiliary devices. The module also includes four isolated D/I, four isolated D/O, one analog input, and one PWM input for communication with temperature sensors, speed sensors, and other appliances. The 9-36 VDC wide-range input voltage is suitable for all types of vehicle power supply and includes an ignition signal to easily turn the VTK-RELAY system on and off. VTK-RELAY's slim and rugged (MIL-STD-810G standard) design is appropriate for industrial applications but especially for vehicular systems.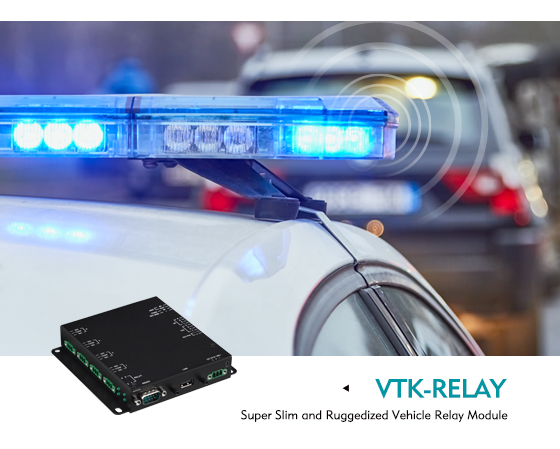 Relay, your way
VTK-RELAY is a critical component of first response vehicles' computing systems. You can use an isolated D/I to control the four relay outputs for devices with higher power requirements (10A@12VDC and 5A@24VDC). The USB 2.0 and RS-232 Tx/Rx interfaces allow the relay module to link effortlessly to your vehicular computer, including our VTC, nROK, and MVS series. D/I channels can connect to external trigger signals, such as switch buttons, and D/O to trigger devices like sirens and strobe lights. Meanwhile, analog input and PWM inputs also allow your module to link, for example, to wheel speed and temperature sensors. Finally, we provide a handy utility for users to effortlessly control and customize their software.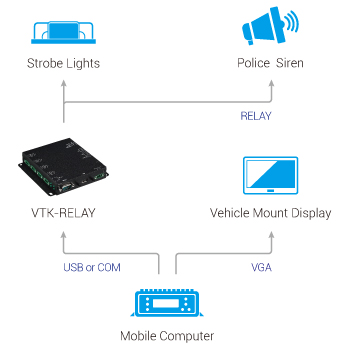 Compact but solid
In meeting customer requests, we packed all components into a slim size to ensure that the VTK-RELAY fits easily in small spaces. Yet small doesn't mean flimsy; in fact, the ruggedized module meets MIL-STD-810G standards for vibration and shock, particularly with the locking USB connector and terminal block layout. Better yet, it's guaranteed to perform powerfully in a wide range of temperatures, from -40 to 85°C, confirming that the VTK-RELAY is a versatile choice for multiple applications.
Main Features
4 x Form C relays with 10A@12VDC/5A@24VDC
4 x Isolated Digital Inputs and 4 x Isolated Digital Outputs
1 x Analog input and 1 x PWM input
Various communication interfaces: RS-232 Tx/Rx and USB 2.0
Utility and sample code for user to customize software and control relay
9-36 VDC wide-range input voltage with ignition signal
Wide operating temperatures: -40°C~85°C
CE and FCC Class B certified
Ordering Information
Barebone
VTK-RELAY-01 (P/N: 10VK0RELA00X0)
4 x Relays, 4 x Isolated DI, 4 x Isolated DO, 1 x Analog input, 1 x PWM input